January 01, 2004
A HAPPY NEW YEAR (2004)
Dear Firends of coolstates/artdemo
Thank you for your attention and kindness to me.
I wish your new year would be good and hope world better.
Please expect our up coming activites and projects on 2004.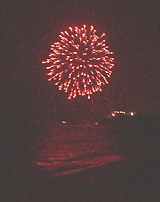 New year firework @ Sanya, Hainan China Where every resort hotel having new year greeting firework 0:00 2004 Gougious!
Sincerely,
OKADA, Tomohiro
Chairman artdemo
Managin Director Cool States Communications